While we're in the Holiday Spirit, check out Steve Mauldin's gut wrenching version of
Oh, Holy Night
or how about
The Last Trumpet Christmas

AND.....
A Very Grand Finale
to the
Hallelujah Chorus
or
"...when organists mutiny..."
| | |
| --- | --- |
| "Sleigh Ride" without valves...? | |
More? You want more?!?!

Then you ABSOLUTELY MUST hear
"Don't you wish you
played the flute....?"
clicking on the above link sends you to a
great site, where no instrument is spared :)
---
Do you own this recording?
It's not a joke, it's completely serious....
BUT, it's hysterical!
Click on album cover for samples. Or, if you need more convincing ...........
One of the most demanding works ever written
Faerie's Aire and Death Waltz
click on each image for larger copy
---
A major military musical mixup occured the day the Pope visited the White House. The Army Herald Trumpets and the President's Own Marine Band were to play Arrival Honors and "Hail to the Chief" as the President was introduced. The military personnel in charge of each of the 2 musical group did not collaborate. So here is the end result. As you might imagine, the 2 men in charge were in a handful of trouble, while both bands are off the hook for doing what they were told.
Enjoy this marvelous rendition of Hail to the Chief.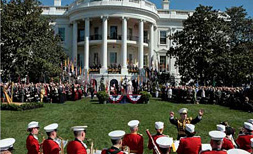 Hail to the Chief Mixup- Apr 16, 2008 , Pope Benedict Visit
And finally, a classic....
After the last child moved out of the house, and years of ignoring the fact that the love was gone, Mom and Dad announced they were getting a divorce. The kids were distraught and hired a marriage counselor to try and keep the parents together. The counselor worked for hours, tried all of his methods, but the couple still wouldn't even talk to each other.

Finally, the counselor went over to a closet, brought out a beautiful upright Bass, and began to play. After a few moments, the couple started talking. They discovered that they weren't actually that far apart and decide to give their marriage another try. The kids were amazed and asked the
counselor how he managed to do it.

He replied, "I've never seen anyone who wouldn't talk during a bass solo."